On the 28th of December my girlfriend received a letter from the Euromillones Loteria International
Below is a copy of the letter sent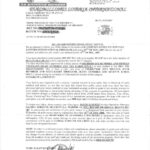 How do I know this is a scam?
Firstly the letter is not directly addressed to my girlfriend, and she has never entered any lottery.
Secondly all of the logos on the letter have been scanned into the computer.
Thirdly the letter heading, is that word art with a drop shadow? On an official letter?
Fourthly, why would the winning participant have to give 10% of their winnings to Global Fortune Security S.A.?
Fifthly, don't even get me started on the "claim form"!
I'm not sure what to do with this now, do I send the "claim form" back with fake details, or just tick the box asking to be paid by a certified cheque?
The letter asks for the "award" to be kept away from public notice until the claim has been processed and the money "remitted to your nominated account"
So what better place to announce that my girlfriend has won €615,810 (six hundred and fifteen thousand eight hundred and ten euros only) shared among seventeen (17) international winners with 10% taken off, than my blog!
That's €32,601.71 (thirty two thousand six hundred and one euros and seventy one cents) or £23,940.91 (twenty three thousand nine hundred and forty pounds and ninety one pence)
WooHoo! We're in the money! Lol!
Until the next scam,
Stay safe!
Update! One of the commenter's, Nick, has set up a Facebook group, if you would like to join its called I've received a letter from Euromillones Loteria International.